First, measure the circumference around the body by vacating about four fingers from the forelegs of the dog. Then, according to the weight of the dog, refer to the size chart to select the appropriate size.
Smaller and Cooler

Better Choice in Summer
Dog Walking made easy with the new innovative All-In-One No Pull Dog Harness!
No more slipping out of their harness! This is 'slip-proof', easy hassle-free on and off. Comfortable for all breeds of ALL sizes.
Stop using the usual neck harnesses that hurt your furry-friend when pulling, treat him with comfort and respect using the All-in-One No Pull Dog Harness.
WHY IS THIS THE BEST HARNESS?
Stops Pulling - For Better Walks for You & Your Dog.
Easy-Off/ Easy On - Hassle-free On / Off in 2 Seconds.
Adjustable straps - Fits Your Dog's Body perfectly and comfortably.
EZ Grip Handle - Multiple uses including helping dogs walk, more control, and taking it off quickly.
Reflective - More visibility on night walks for increased safety and peace of mind.
High quality -Strongest material to prevent fraying seams or Hook and Loop that slips.
Multiple Colors - Find one to fit your dog's personality.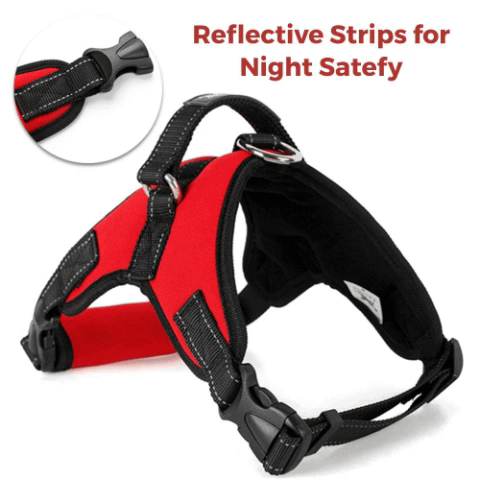 The perfect gift for your loved ones!
Go to the "leash" collection or search "leash" to choose a leash: